our team
meet our professionals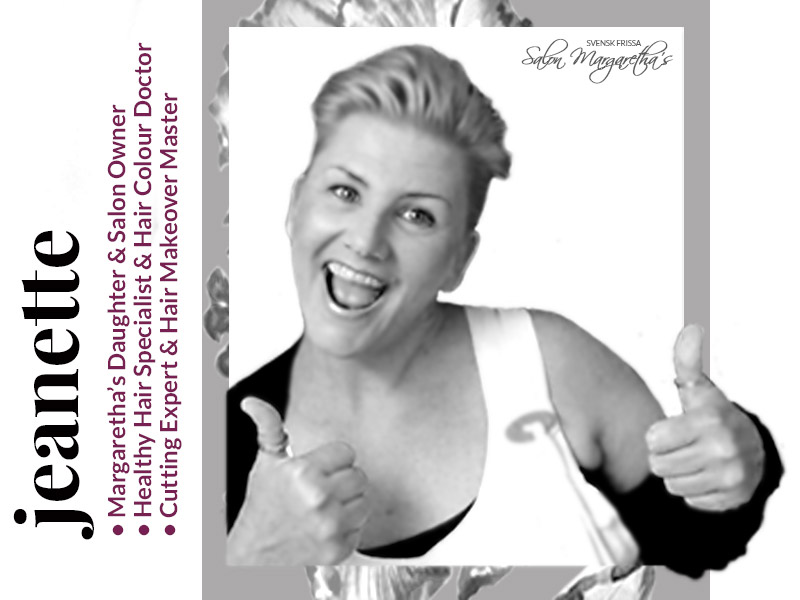 more info
Jeanette Blomqvist is Margaretha's daughter and CEO of Salon Margaretha's. She is our absolute specialist in hair health and conscious hair colouring.
Jeanette is a sublime cutting expert and a master of hairstyle makeovers. Her deep respect and nurturing of her clients' hair brings out the natural beauty, balance and brilliance of their hairstyle and fits perfectly with each person's personality, lifestyle and vision of themselves. She has more than 25 years' experience in hairdressing. You just know she knows what's right for you and your hair.


---
Jeanette's native language is Swedish and she also speaks English and Spanish fluently.

more info
Margaretha Blomqvist is the founder of Salon Margaretha's. She has been working in hairdressing since the age of 14 and she has dedicated her whole life to helping people to feel good about themselves through hair and scalp health.
In 2002, Margaretha inaugurated her in-salon Hair Loss and Scalp Health clinic, which has helped innumerable people live well and confidently in the face of devastating hair loss with her tailor-made prostheses, hairpieces and quality wigs. Today, Margaretha is still as passionate as ever in helping her clients re-establish well-being and calm during some of the most challenging health moments of their lives. Without doubt, her work is pivotal in rekindling self-esteem and self-worth on their road to recovery.


---
Margaretha is from Sweden and speaks Swedish, English and Spanish.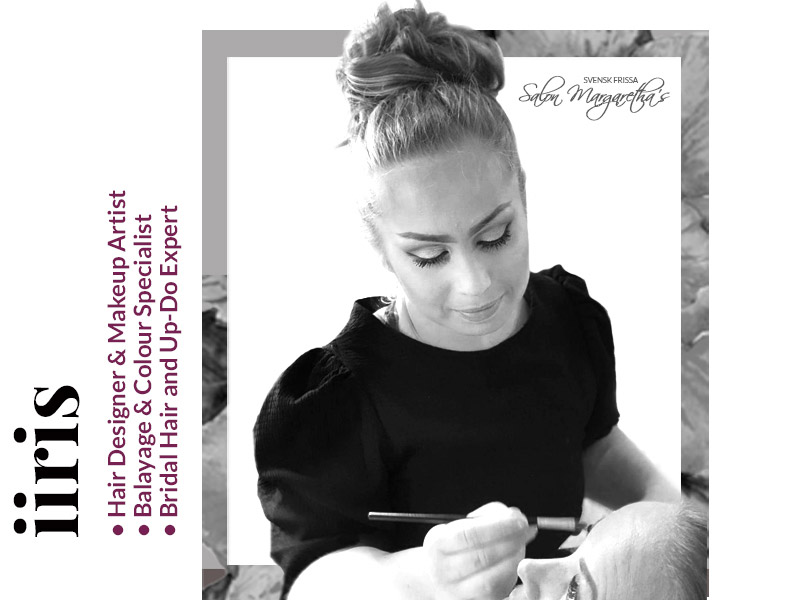 more info
Iiris Leinonen has been interested in makeup and hair since she was 4 years old. It is quite clear to all of us that she has a natural gift for the art of makeup and hairstyling.
She is our expert in bridal hair, up-do's and creative styling. Iiris also is our specialist in the "no-makeup makeup" for our brides and mature clients looking for a flawless, natural look that's light, flattering and that lasts all day.
Iiris is highly passionate about helping people to feel good and she has a unique talent for colour makeovers and transforming traumatised hair into a hairstyle that is healthy, beautiful and that looks and feels amazing.


---
Iiris is Finnish and speaks Finnish, English, Swedish and Spanish.

more info
Sheena Stewart totally walks her talk and she completely embodies her passion for natural and organic beauty therapies that help her clients to look and feel the best version of themselves imaginable.
Sheena trained in the UK and has spent nearly 2 decades offering beauty treatments that cherish, nurture and revitalise skin, hands and feet.
She is a highly empathic beautician, specialising in facials, Hopi ear candling and glowing skin treatments that restore and rebalance wellbeing and inner peace. Sheena is also a specialist in the art of natural makeup, CND shellac nail art and beauty from the inside out.


---
Sheena is from the UK and speaks English. She is learning Spanish in her free time.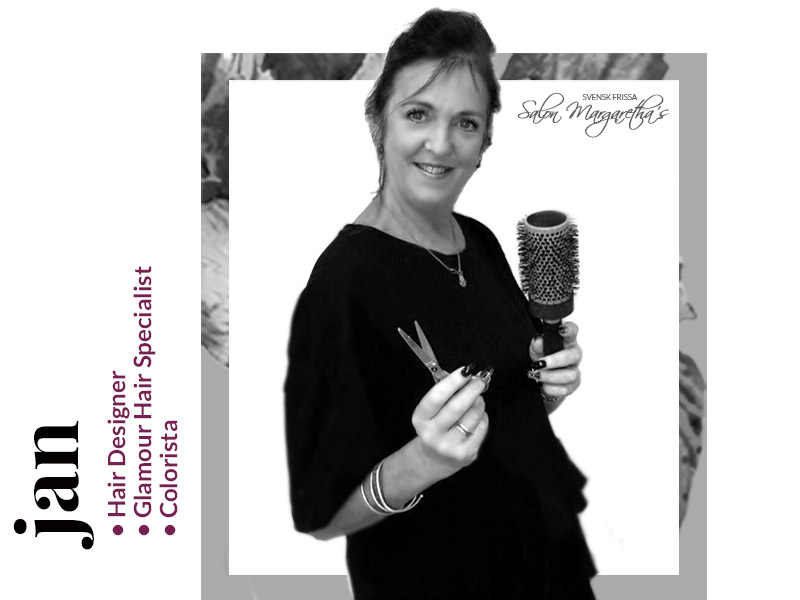 more info
Jan Pembroke is a highly accomplished hairstylist specialising in chic short haircuts, beautiful blow-dries and glamour up-do's.
Jan's clients are highly loyal and have been with her for years (even following her from the UK to Spain after she relocated to the Costa Blanca way back in the late 1980's!).
Jan has an amazing eye for style and colour. Her cutting and blow-drying skills are superlative and she is a highly valued and respected member of our team.


---
Jan is from the UK and she speaks English and Spanish.

more info
Nikki Fülop is now back on our wonderful team of hairstylists, after having a beautiful family!
She's very excited to be part of our salon again, so she can express her talents at helping people to feel good and look great.
Nikki is an accomplished colorista and stylist.
She also specialises in male styling and barbering.
Welcome back Nikki! It's great to have your skills and valued experience on our team.


---
Nikki's native language is Hungarian. She also speaks Spanish and English.

more info
Deborah Jackson loves cutting precision bobs and sharp styles, but her true forté is razor cutting, because she loves the 3D textures, great movement and easy style management it gives her clients, long after they leave the salon.
Deborah is extremely passionate about helping people to feel good and her deep empathy and kindness for people and animals is a beautiful energy to be around.
She works with us on Tuesdays and Fridays, so reserve your time early as she is very popular and gets very booked-up in advance.


---
Deborah is from the UK and speaks English and Spanish.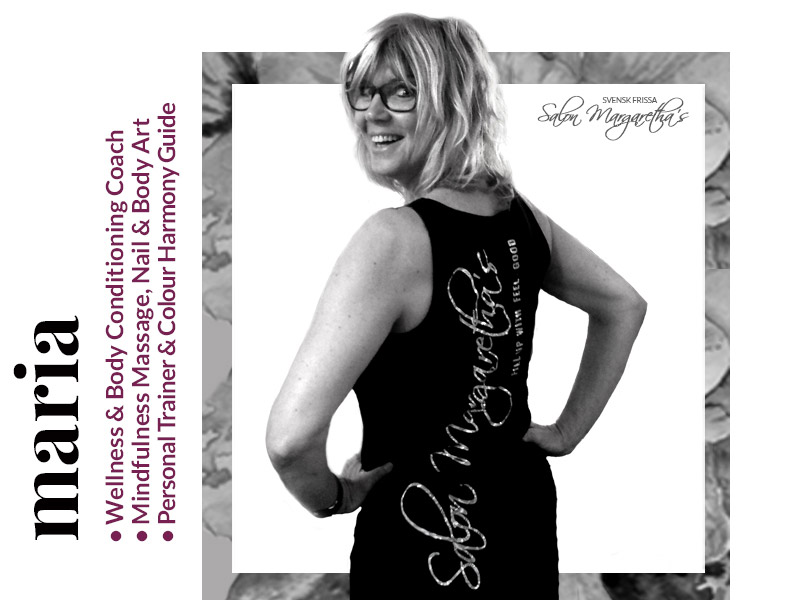 more info
Maria Fallas's great passion is holistic well-being and she has spent nearly 3 decades as a fitness trainer coaching whole self wellness, body balance and core conditioning.
In-salon, Maria takes care of hospitality, social media and salon admin. . She also offers massage, EFT meridian tapping, nail and body art, as well as advice for personal colour harmony and holistic wellness.


---
Maria is from the UK and speaks English, Spanish and French. She is learning Swedish in her spare time.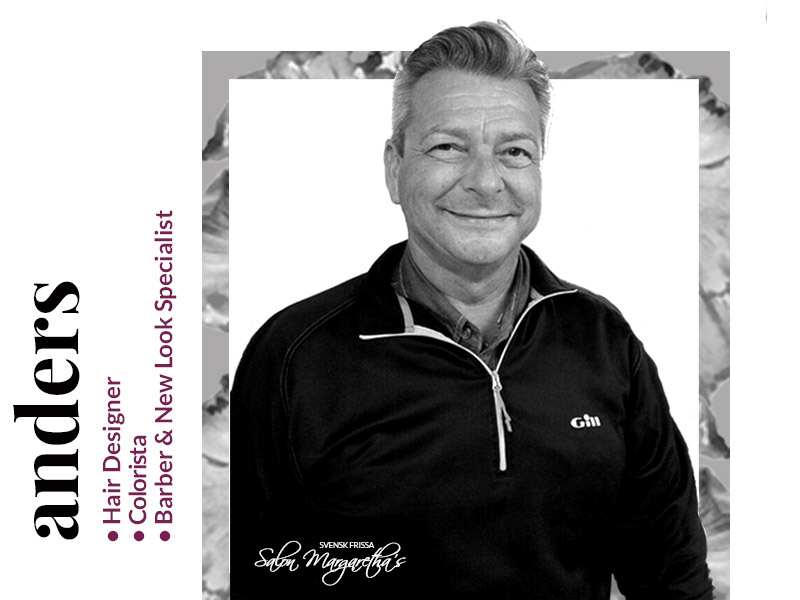 more info
Anders Jansson is a gifted and highly experienced hairstylist with an intensely loyal following at Salon Margaretha's.
He is an expert hair designer and master of the blade. His barbering skills are second-to-none for his gentlemen clientele, with great styling ranging from sharp maverick looks to classic clean cuts.
He has a great eye for symmetry and form which makes him one of our most favourite ladies' stylists. He knows what makes a lady look good and feel great.


---
Anders native language is Swedish, but he also speaks English and Spanish.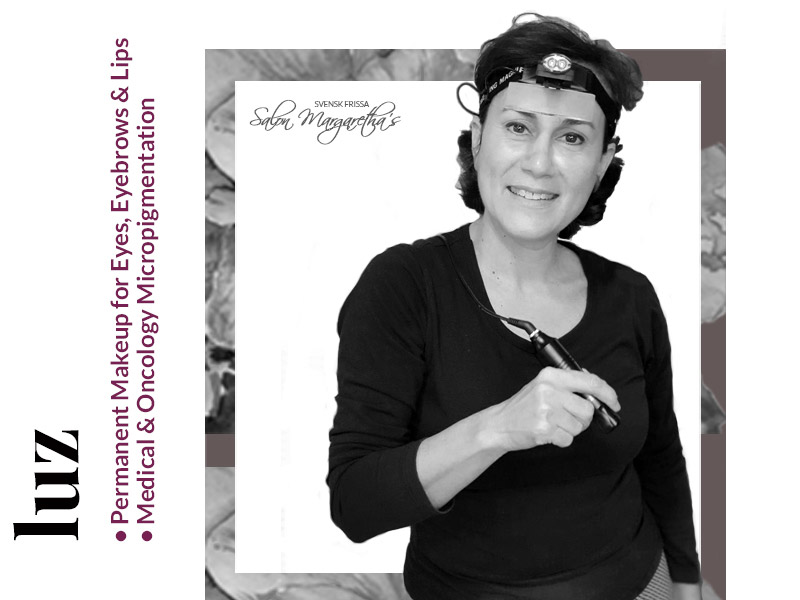 more info
Luz Ramirez has been working in cosmetic and medical micropigmentation for more than 20 years.
She is a highly skilled permanent makeup artist and her extensive experience and talent has helped hundreds of ladies rejuvenate their facial features, as well as restore the pigmentation and form of their lips, eyebrows and lash lines.
She also does invaluable work at various Oncology centres offering medical tattoos and specialist skin repigmentation techniques following surgical procedures, scarring or skin alterations.


---
Luz is Spanish and is in high demand all over the Costa Blanca.

more info
Aneta is our specialist in reflexology for face, hands and feet, Reiki, Lomilomi Nui Hawaiian massage and the revolutionary Access BARS energy therapy.

She has many years' experience in the field of energy work and it has become her life's vocation to help others by sharing her knowledge, expertise and commitment to guide people to find their own natural well-being and inner harmony, through the wisdom of their body's innate energy and balance.
Your body, mind and spirit will love this experience.


---
Aneta's native language is Polish, but she speaks perfect English as well.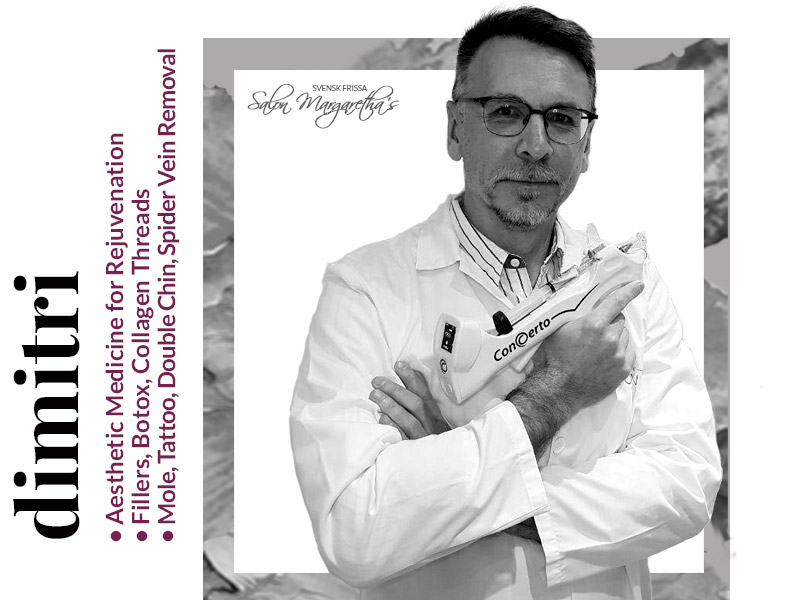 more info
Dr Dimitri Fillipov is our highly sought after Aesthetic Medical Doctor with consulting clinics in Sweden and Spain.
He is an expert in facial rejuvenation treatments using the latest collagen threading techniques, botox, soft surgery and high-tech fillers.
His most transformative work can be seen in the natural-looking freshness of his patients' faces, particularly around the mouth, eyes and jawline. There is no doubt that Dr Dimitri has an exemplary skill in helping the passage of time leave less of a visible trace on the face.
Dr Dimitri also specialises in removing moles, age spots, tattoos and spider veins. We cannot recommend him highly enough.


---
Dr Dimitri's native language is Russian, but he speaks fluent Swedish and English as well.

more info
Andrés Candela is our lovely receptionist and I-tech heroe!
His background in computer programming and information technology has revolutionised how we manage our clients' bookings and their preferences and his love and talent for technical order and organisation has made salon life run super smoothly and efficiently, leaving us more time to help our wonderful clients to feel good and look great!
He is our webmaster and internet guru….and he makes a wonderful cup of coffee as well! :D


---
Andrés is from Colombia and speaks Spanish and English. He is also learning Swedish in his spare time :D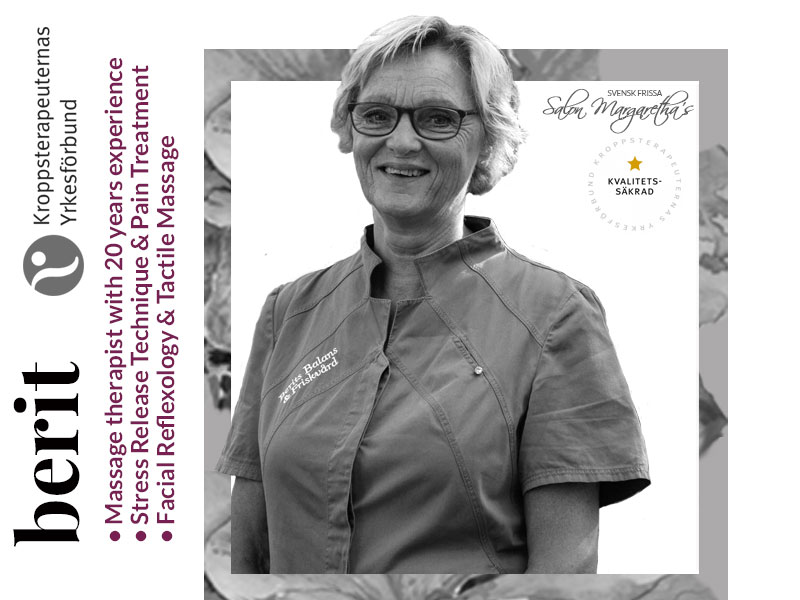 more info
Berit has 20 years experience in massage therapies and stress release technologies that help people to live full, flourishing and pain-free lives. She understands how the body works and her intuitive awareness helps her to create completely individualised treatments based on each client's needs and goals.
Berit is a very gifted therapist and we are privileged to be able to work with her.
Berit is Swedish and also speaks English.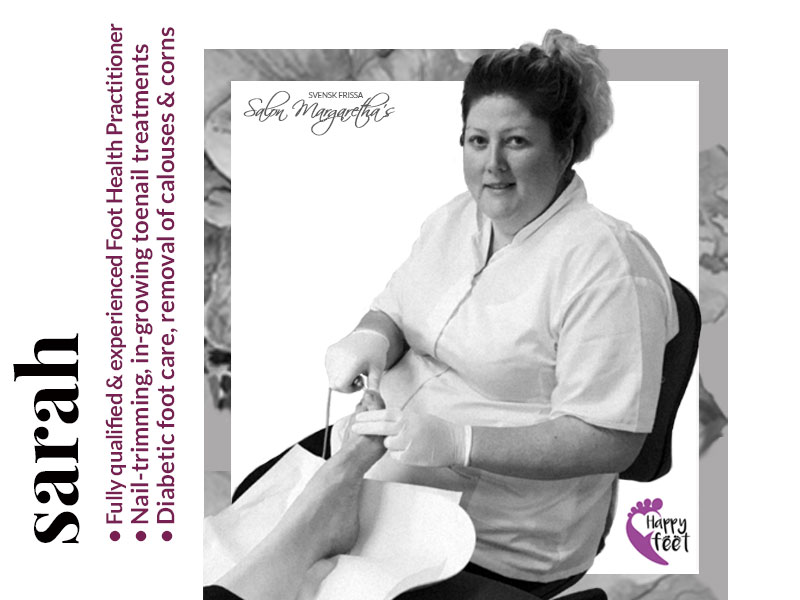 more info
Sarah's clinical background will ensure optimal foot health while her creative flourish will leave your tootsies tingling and your neatly-trimmed nails dazzling.
Treatments include diabetic foot care, nail trimming & filing, in-growing toenail treatment, the removal of callouses & corns and advice on good foot hygiene.
Amanda is English. She also speaks a little Spanish.
a little bit of instagram
Error validating access token: The session has been invalidated because the user changed their password or Facebook has changed the session for security reasons.
our trusted brands
---