"I love what you did with your face. What do you call it? A smile!" - Anthony Hincks
face & beauty
"For us here at Salon Margaretha's, health is beauty and beauty is health."
face & beauty
Generally, when people are feeling good, happy in themselves, confident and centered, they radiate beauty, no matter what colour, what age or creed.
That is why our philosophies for providing "beauty" treatments, therapies and tuition are all about helping our clients to find feel-good, confidence, freshness and an unshakeable self-esteem in their own unique style and image.

We offer many ways that we think might lift and inspire you to fulfill these fundamental pillars of your well-being. We invite you to browse through our menu below and check out how we can help you to feel even more alive and vital.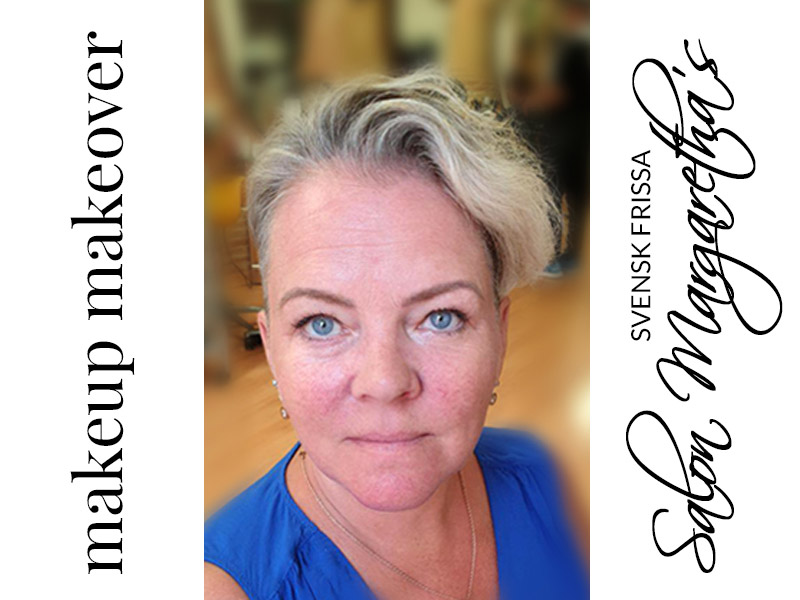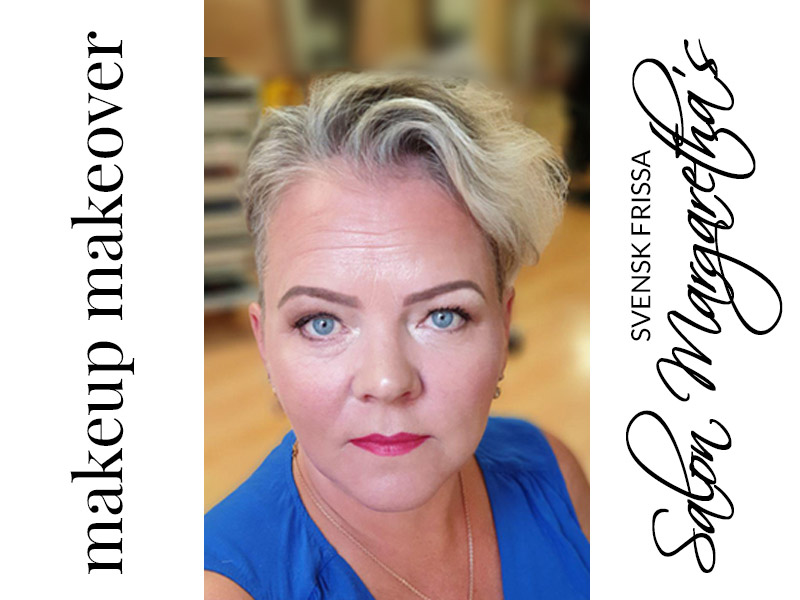 Feeling beautiful has nothing to do with what you look like. I promise.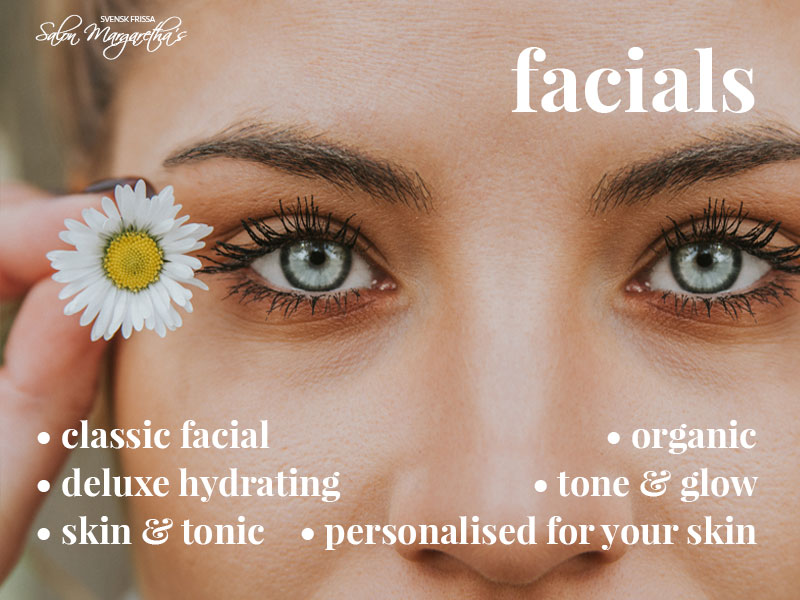 facials
We provide fabulous facials to cleanse, freshen and revitalise skin tone, as well as deeply relax tension in the muscles of your face.
If you're feeling tired and stressed and you don't want to look tired and stressed, we highly recommend that you treat yourself to one of our personalised facials (and get some quality rest!) or maybe try our wonderful Access Bars, EFT or Reflexology therapies to de-stress and recalibrate your peace from within.
(In our opinion, nothing will age you quicker than rampant stress, inner disharmony and lack of sleep, but a facial will certainly be a good place to start to reverse any energy bankruptcy!).

We have many personalised facial treatments to suit your skin's needs and your budget.
We also can mix and match anything that inspires you, or any treatment that you feel that you would especially like.
We can also put a special Pampering Package together for you (just for some well-earned Me-time!) or for a lovely original and unforgettable gift for your best friend, sister, mum, grandma or daughter!

Here are some options as a guide:

Classic
Lovely cleanse and tone, mask and massage. A relaxing and rejuvenating experience that'll leave you totally fresh and revitalised. (45 minutes)
Deluxe Hydrating
Includes deep cleanse, intense hydration, chemical peel, luxury mask, eyebrow shaping, face and hand massage.(75 minutes)
Skin & Tonic
Includes double cleanse, gentle exfoliation, pore-reducing skin tonic, relaxing massage, super-hydrating oils, prescriptive mask, skin-quenching serum, eye cream and lip balm. (60 minutes)
Organic
Deep aromatherapeutic love and respect for your skin with "Eve Taylor of London's" top skin care naturals and botanicals. This facial includes a pH balancing cleanse, lymphatic drainage, skin-illuminating scrub, soothing mask and precious skin-loving oils.(60 minutes)
Tone & Glow
Cleanse, exfoliate, tone, mini-mask, eye cream and lip balm. (30 minutes)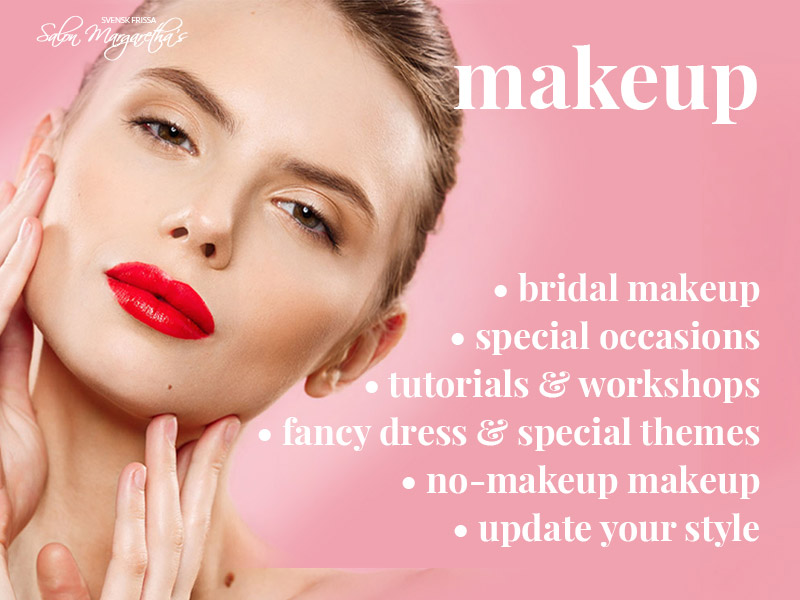 makeup - tutorials, workshops, party-time and new you's!
We use makeup to enhance and magnify the beauty that already exists in you.
We can teach you how to maximise your key features, look more radiant, more revitalised and reboot your confidence at the same time.
If you like the sound of that, then contact us to see how we can help you too!
Got a special event to go to?
Why not let our expert makeup artistes prepare your look for your special event?
Professional makeup doesn't need to be heavy, nor exaggerated.
Our aim is that you actually still look like "you", but the difference is, we create a flawless skin finish that gives you a long-lasting, natural radiance and freshness.
Our speciality, without doubt, is our bridal "no-makeup makeup" and our subtle, yet exceptionally flattering eye makeup for "ladies of a certain age". :D
At last!! With us....it is all possible!
hair removal
We understand what it's like to find hairs growing where they never used to.
Our beauticians are here to expertly deal with this "situation"!
We offer waxing and tweezing. In fact, whatever you need to feel (and look!) "clean", soft, silky and smooth :D
If you're hitting the beach and suddenly notice you need "help", just call us and we'll do our best to fit you in! (It wouldn't be the first time we've had to do an "emergency" waxing!!).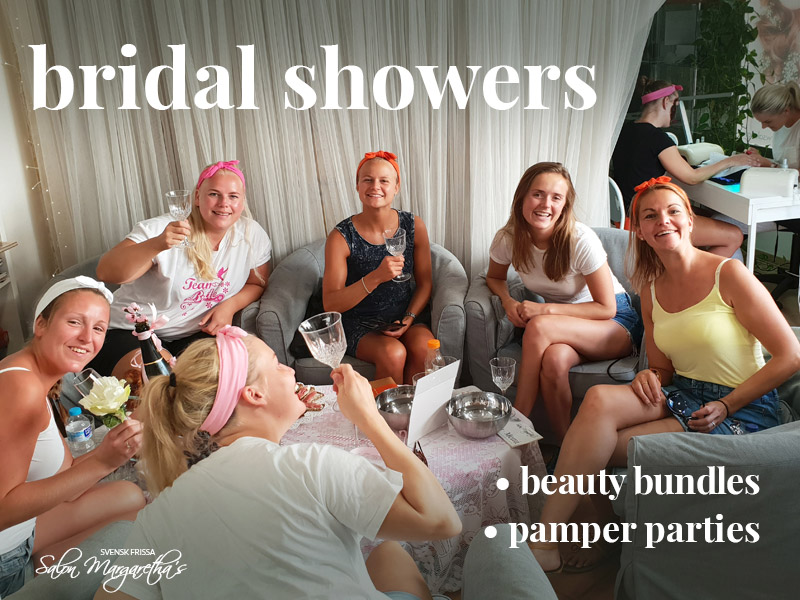 bridals and bridal showers
Ok, so your wedding is one of the most special days you'll ever experience and you'll probably be more photographed on this day than at any other time of your life! (No pressure there then! :D).
Your makeup and hair is our top priority and we know what we're doing.
We've been so fortunate to have worked with hundreds of brides over our 30 years in Torrevieja, every one being unique and special.
It is our greatest wish that you fulfil yours and we are excited and delighted to be able to help you prepare for your big day.
Our Bridal Showers give you the opportunity to celebrate your friendship with your bridesmaids and girly crew and create even more unforgettable moments together.
We have lots of ideas and special treatments for your all to share! Just ask us for our Bridal Shower Bundles, Bachelorette Spa-rties and Pamper Packs!
bridal makeup
"Every bride is beautiful. It's like newborn babies or puppies. They can't help it." Emme Rollins

So true. We totally agree, but to feel beautiful, is something else.
Our bridal makeup celebrates and captures the real you…just as you are, but with a sheer veil of magical dusting and highlights, maybe smokey eyes or captivating shimmer to bewitch and create breath-taking images that you'll love for ever and ever. And so will he.
May you feel "full of beauty", because that's what you are.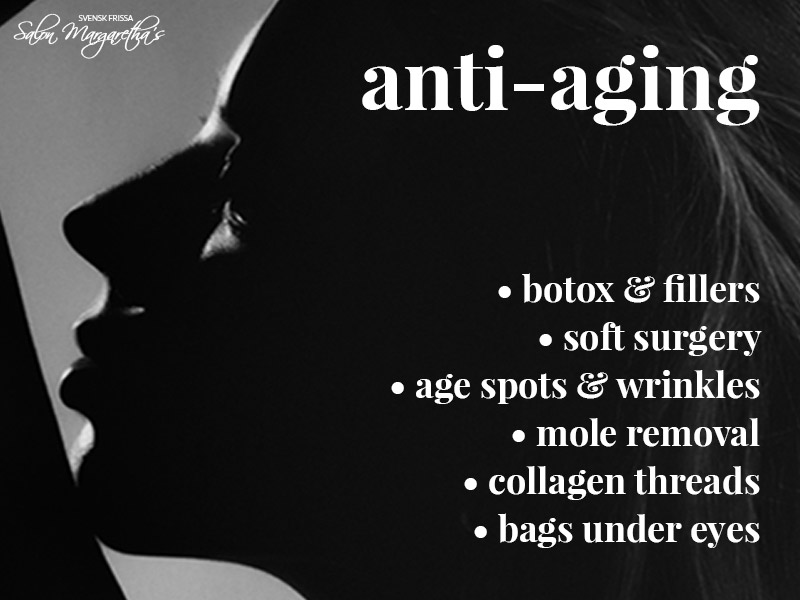 cosmetic medicine
Dr Dimitri is our highly sought after Aesthetic and Cosmetic Medical Doctor with consulting clinics in Sweden and Spain.
He is expert in facial rejuvenation treatments using the latest collagen threading (lifting) techniques, botox, soft surgery and high-tech fillers.
His most transformative work can be seen in the natural-looking freshness of his patients' faces, particularly around the mouth, eyes and jawline.
There is no doubt that Dr Dimitri has an exemplary skill in helping the passage of time leave less of a visible trace on the face.
Dr Dimitri also specialises in removing moles, age spots, tattoos and spider veins.
We cannot recommend him highly enough.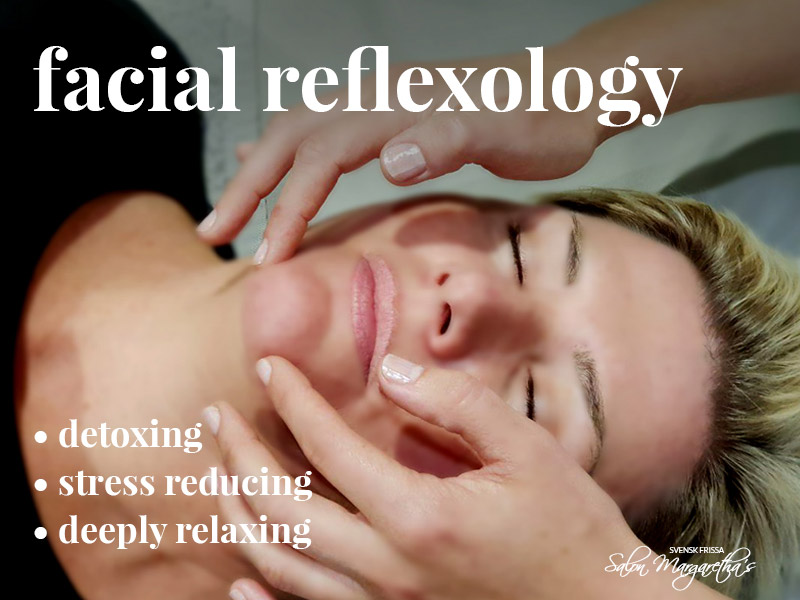 reflexology for face
A reflexology treatment uses gentle pressure to specific areas of the face (or feet, ears or hands).
It is believed that these areas correspond to various organs and systems of the body, which when stimulated with pressure via the reflexologist's gentle touch, can reduce a person's experience of stress, tension and pain.
Reflexology has also been shown to be beneficial in helping people with anxiety and depression, as well as enhancing quality relaxation and better sleep.
Our reflexologist, Aneta, has many year's experience in the field of Reflexology and it has become her life's vocation to help others by sharing her knowledge, expertise and commitment to guide people to find their own natural well-being and inner harmony, through the wisdom of their body's innate energy and balance.
Aneta is also a Reiki* and Access BARS** practitioner, as well as a Lomilomi Nui*** masseuse.
* Reiki is a healing energy technique that aims to restore physical and emotional well-being.
** Access BARS is a revolutionary process that eliminates and eradicates limiting thoughts, beliefs and patterns.
*** Lomilomi Nui is an ancient hawaiian healing massage with prayer and intention.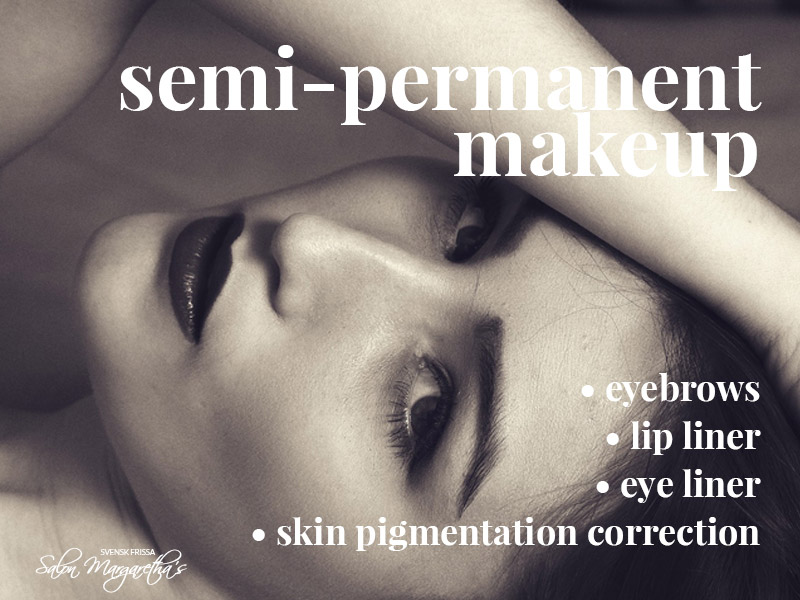 micropigmentation
This technique is sometimes referred to as "permanent makeup" is a process in which metabolically inert pigment granules are implanted below the epidermis for cosmetic or corrective colour enhancement.
Micropigmentation is used to freshen facial features such as eyebrows, eyelash and lip contour lines.
The technique can also improve the appearance of scars and Vitiligo (uneven skin pigmentation).
If you've had enough of using eyeliner and lipliner, then we suggest you seriously consider this liberating and rejuvenating treatment by our highly experienced Micropigmentologist, Luz Ramírez.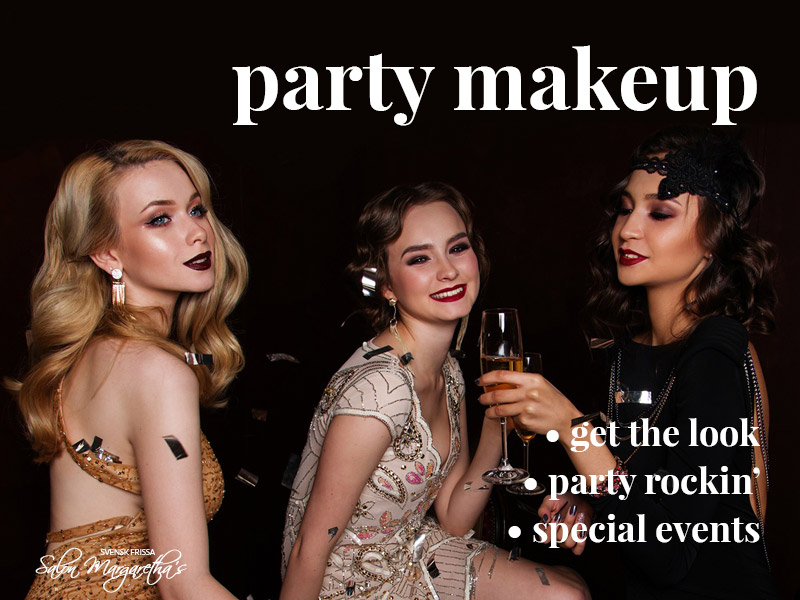 party makeup
Got a party to go to?
If you want to feel extra confident, look stunning and create an unforgettable impression, come and get your makeup done (and maybe your hair as well!?) with our expert makeup artistes.
Professional makeup doesn't mean thick layers or overdoing it on the colour. Our makeup artistes will help you to accentuate your unique features and attributes, especially in the eye zone.
Who doesn't want to look hypnotically sophisticated?
Who doesn't want a selfie that they actually love?
Be mesmerizing…and still be you. Come and see us next time you're going on a hot date or a party!
Together, we've got it all covered!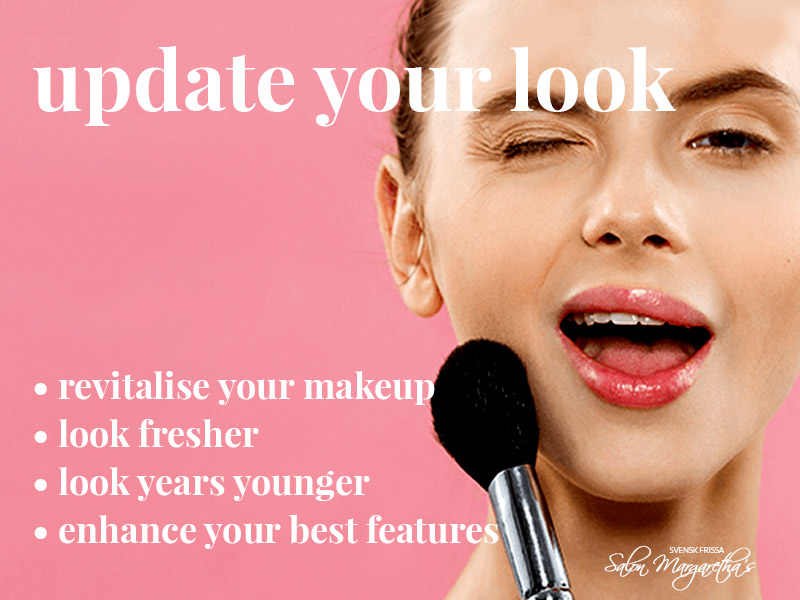 want to update your look?
Have you ever thought what you would look like if you weren't still using the same makeup technique you learnt at school?
Whilst you probably feel quite "comfortable" doing what you've always done, have you ever wondered what other look is possible for you and your face now?
There's no doubt that a makeup makeover can boost your energy, self-esteem and confidence like nothing else can!

"What will you do today to be who you want to be tomorrow?" Jon Gordon

For more information about our one-to-one makeup tutorials, group workshops, ladies' nights and pampering parties, contact maria@salongmargaretha.com.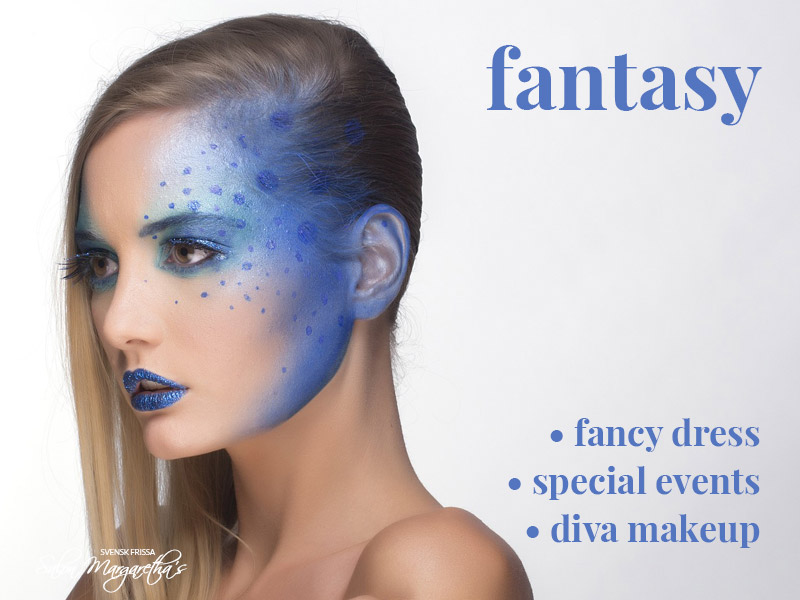 fantasy makeup
Got a special event coming up? Carnaval? Fancy Dress? Halloween? Charity Fun Run?
Whatever your makeup idea, we can make it happen.
Our professional makeup artiste has trained in top theatre and the dramatic arts arena for fantasy, stage and film makeup.

"Be fearless in the pursuit of what sets your soul on fire." Jennifer Lee.

Oh yeah!!
Be around people that make you want to be a better person, who make you feel good, make you laugh, and remind you what's important in life.