"Most people shake your hand, but only a few touch your heart." - Giovannie de Sadeleer
hands & feet
"Hands are unbearably beautiful. They hold on to things. They let things go." - Mary Ruefle
hands
Most ladies, if they are completely honest, like to see their hands and nails looking cared for.
The nails don't need to be long, but manicured hands speak "cleanliness, good grooming and self nurturing".
In fact, the word "manicure" comes from French meaning "care of the hands" and that is what we offer here in our salon, both manicure and pedicure (care of the feet).
We have different treatments that have more emphasis on the health of the skin of the hands, others on the health of the nails, plus lots of different possibilities for nail colour, decoration and nail art.
feet
One of the most important and essential self-care rituals is to look after your feet!
A pedicure doesn't just make your toes look pretty (for those gorgeous summer sandals, holidays and BBQ parties!), but it is the cornerstone of good foot and postural health.
Hard skin isn't just aesthetically unappealing, but it's the potential for alternation in your walking and movement patterns, leading to joint problems, back pain, circulation issues and a decline in wellness.
Let's face it, it's really hard to do your own feet properly. Unless you're a yogi guru, a normal person just can't get the right angles to give themselves a good (and complete!) pedicure.
Well luckily, we have great professional people who can sort that out for you, offering both medical pedicures, as well as traditional pedicures.
They LOVE your feet (maybe more than you do!), so bring them to us!
We know how good you're going to feel after!
"I will not let anyone walk through my mind with their dirty feet." - Mahatma Gandhi
---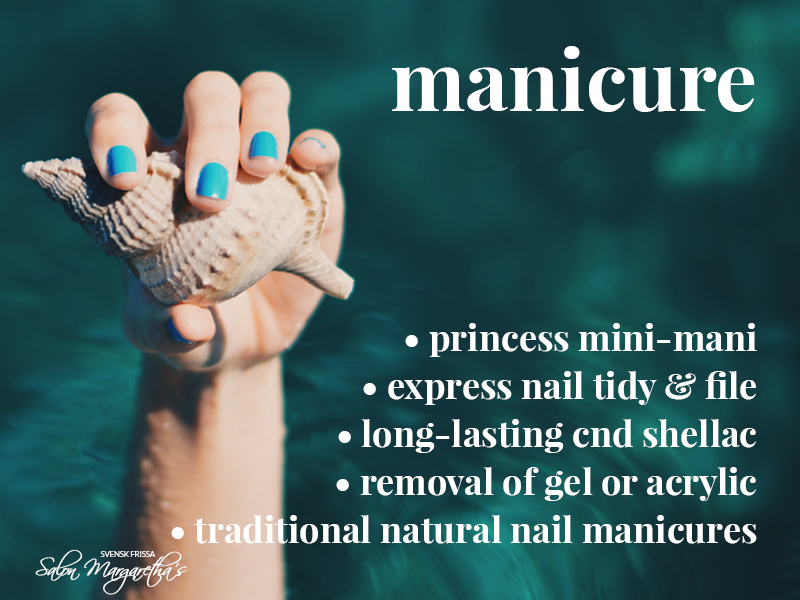 manicure (traditional) for natural nails
Below is a brief description of what we offer in our line of manicure services:
Gold manicure (75 mins)
Nails filed, cuticle tidy, exfoliation, mask or paraffin bath, nail polish (normal), massage.
Silver manicure (60 mins)
Nails filed, cuticle tidy, nail polish (normal), massage.
Express manicure (30 mins)
Quick nail tidy, file and cleanse.
Princess manicure (30 mins)
Mini-mani for under 13's with normal polish and decoration.
CND Shellac (60 mins)
Nails filed, cuticle tidy, long-lasting hybrid half-polish, half-gel, cured with LED light.
Removal of old acrylic nails. (from 30 mins)
Polish only.Yes! We can just paint your nails only if you would like us to!
Decoration with gems, bling, glitter or French. (Please book extra time for this).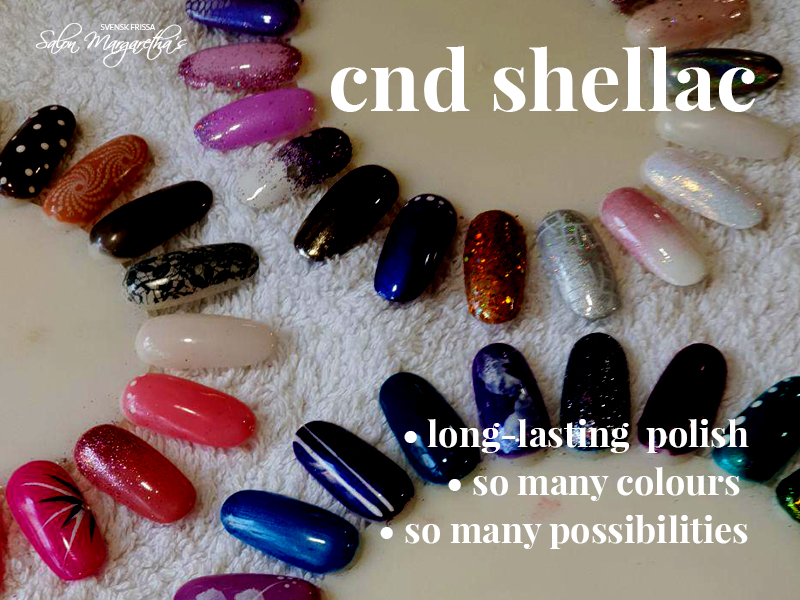 cnd shellac (similar to gellack)
This nail polish system offers relatively long-lasting finish and shine (usually around 1 to 2 weeks).

CND shellac (60 mins)
Nails field, cuticle tidy, long-lasting hybrid half-polish, half-gel, cured with LED light.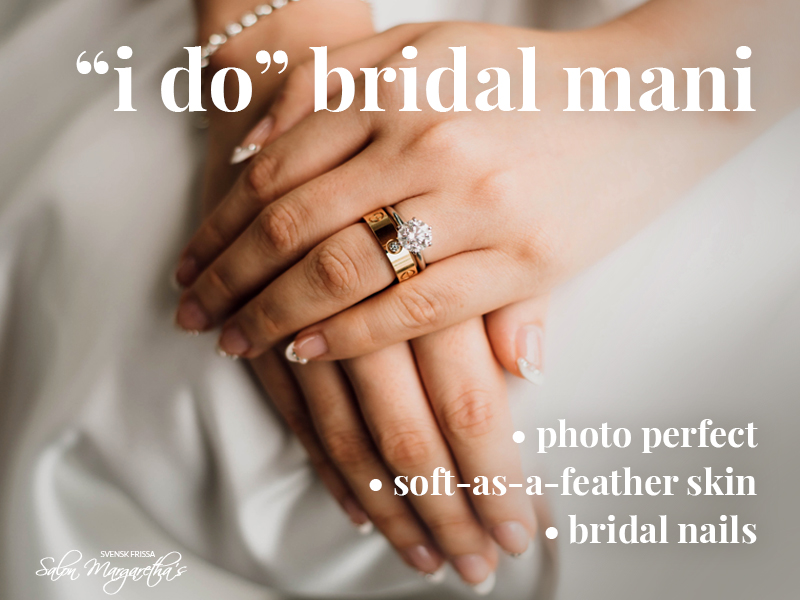 "i do" bridal manicure
On your wedding day, you will probably be more photographed than on any other day of your life!
Your hands will be on "centre stage" with your wonderful "ring-on-finger moment" being captured in your wedding photo albums for all eternity.
Your "I do" bridal manicure is pretty important really then, isn't it? :D
We recommend you enjoy this lovely, pampering manicure with nourishing mask, massage and bridal nail styling, before your big day.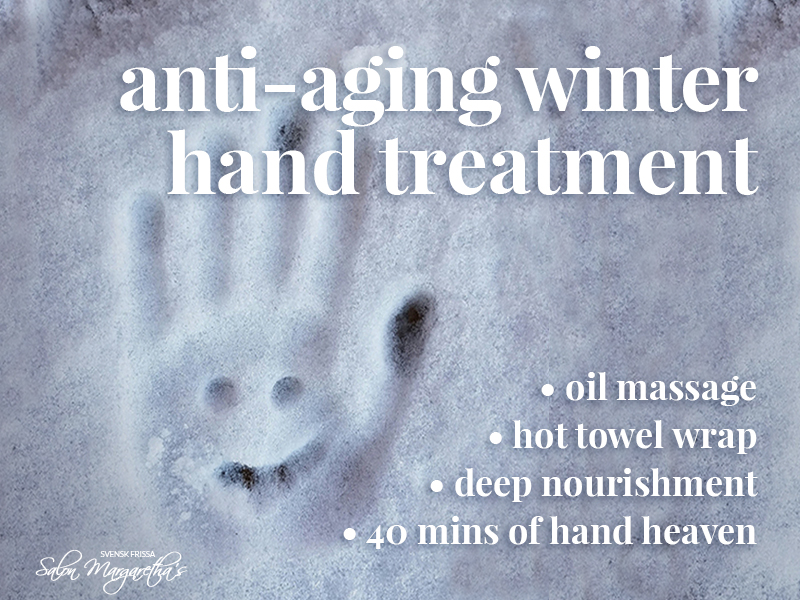 anti-aging hand treatment
A very kind treatment to your hands (best with naked nails) including effervescent brightening soak, mulberry and pomegranate exfoliation, oil massage, hot towel wrap, raspberry ripple hand massage cream, pomegranate oil for cuticles. (40 mins)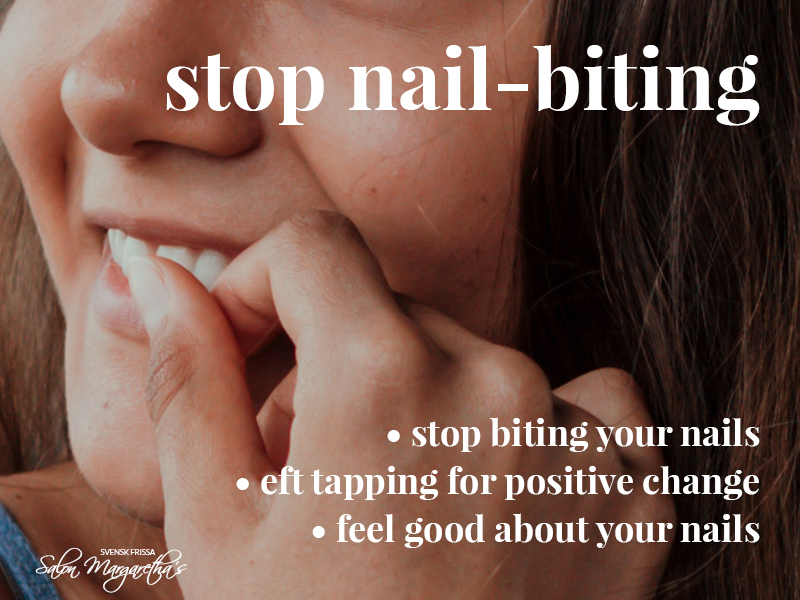 stop nail biting
Grow nails that you'll love and feel good about with EFT meridian tapping (in English).
(30 mins / 60 mins)

What is EFT?
EFT (Emotional Freedom Technique) or "Meridian Tapping" is a fascinating non-invasive energy psychology technique that has been clinically observed to help people on just about every level imaginable.
The method is quick, simple and easy to use and is based on gently tapping over various key meridian points in the body, whilst saying certain statements.
This tapping has an incredibly calming effect on our central nervous system, helping to balance the body's energy and rewire our brains to respond in healthier ways.
EFT meridian tapping is an amazingly effortless process and a great tool for creating a higher level of body, mind health and awareness, as well as better clarity, peace and peak performance in every aspect of our lives.

"EFT produces great healing benefit." Deepak Chopra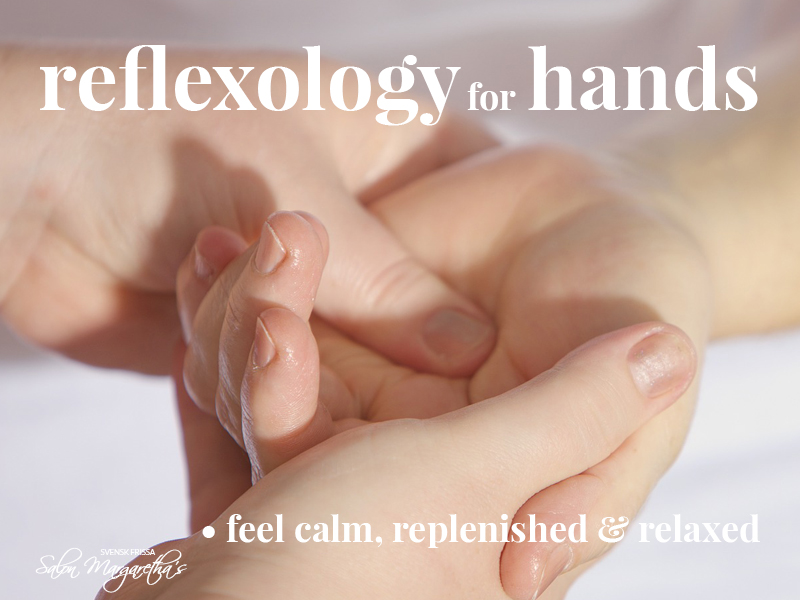 reflexology for your hands
This is a special massage therapy that works on various meridian points on the hands (instead of the feet).
When these points are gently massaged, the corresponding areas in the body receive signals that can give relief, relaxation and renewal.
This treatment is incredibly calming and gentle.
We highly recommend it.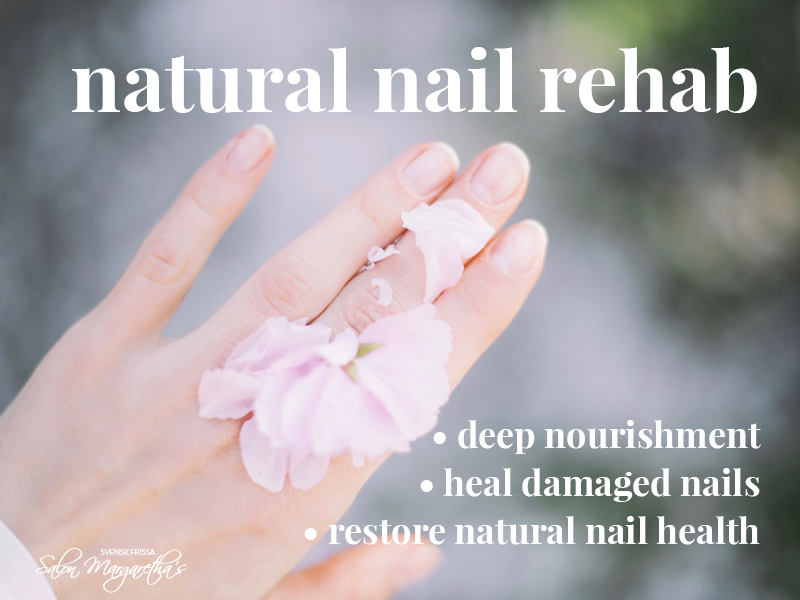 natural nail rehab
Loving care, kindness and deep nourishment to restore natural nail health of distressed, damaged, weak, bitten or splitting nails.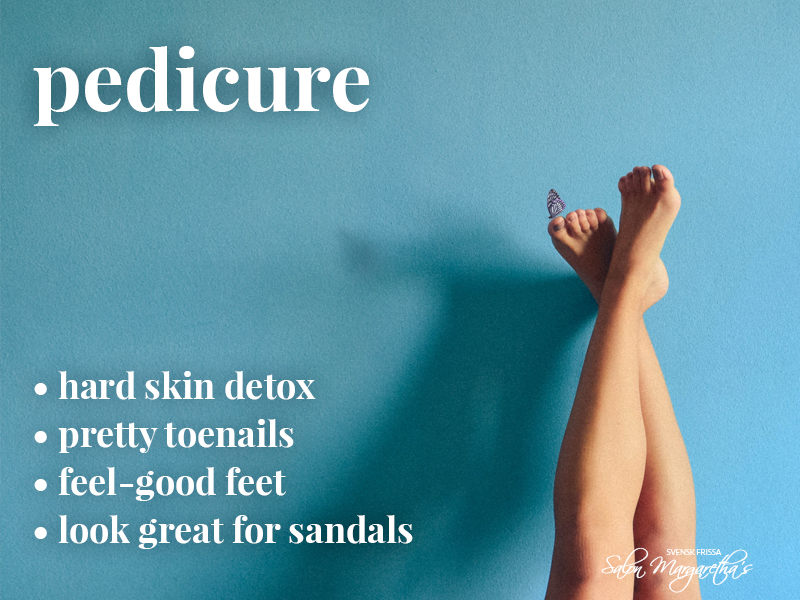 traditional pedicure
A pedicure is definitely a "must" for good body care. Why? Because our feet are the base of our entire skeleton. So, just slightly important then!
We offer 2 different pedicure services; traditional and medical.
Here are our main traditional pedicure services:
Gold pedicure (75 mins)
Foot softening soak, toenails trimmed and filed, cuticle removed, hard skin detox with rasp, exfoliation, mask, toenail buff, nail polish and massage.
Silver pedicure (60 mins)
Foot softening soak, toenails trimmed and filed, cuticle removed, hard skin detox with rasp, toenail buff, nail polish and massage.
Bronze pedicure (45 mins)
Foot softening soak, toenails trimmed and filed, cuticle removed, hard skin detox with rasp, toenail buff and massage.
Polish only
Gems, glitter or French (please allow extra time if you would like this)
CND shellac (similar to Gellack)
Long-lasting hybrid half-polish, half-gel, cured with LED light.
Remove acrylic or remove CND shellac

For medical pedicures, please see the next post below.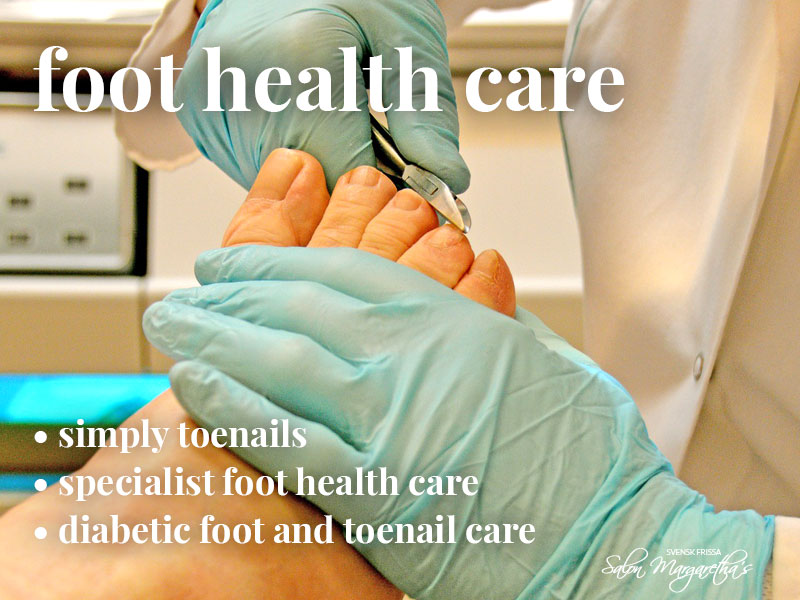 medical pedicure
We offer medical pedicures with a fully qualified & experienced foot health practitioner who specializes in nail trimming, in-growing toenail treatments, Diabetic foot care, plus the removal of callouses & corns and advice for good foot hygiene and care.
Sarah Harverson is a fully qualified and experienced Foot Health Practitioner who runs a regular clinic from our salon as well as private practice both here in Spain, and her native UK.
Good foot health is often overlooked and it becomes increasingly important as we get older.
Sarah's clinical background will ensure optimal foot health while her creative flourish will leave your tootsies tingling and your neatly-trimmed nails dazzling.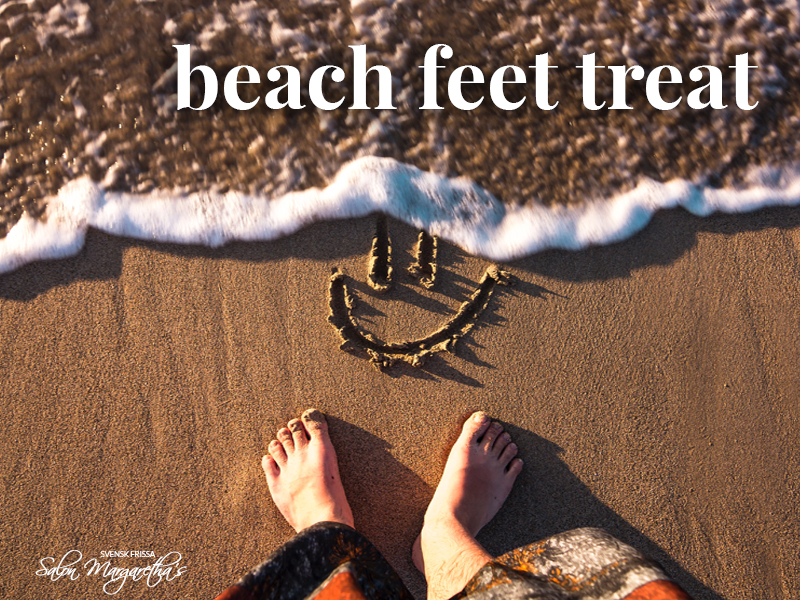 beach feet treat
Revitalising citrus foot soak, toenail tidy and shape, berry mask to hydrate and nourish, gentle exfoliation and removal of hard dry skin, deep moisturising for treating cracked heels, foot and lower leg massage with mandarin and mint infused foot lotion, toenail polish. We love this! We think your feet will too!
(75 mins)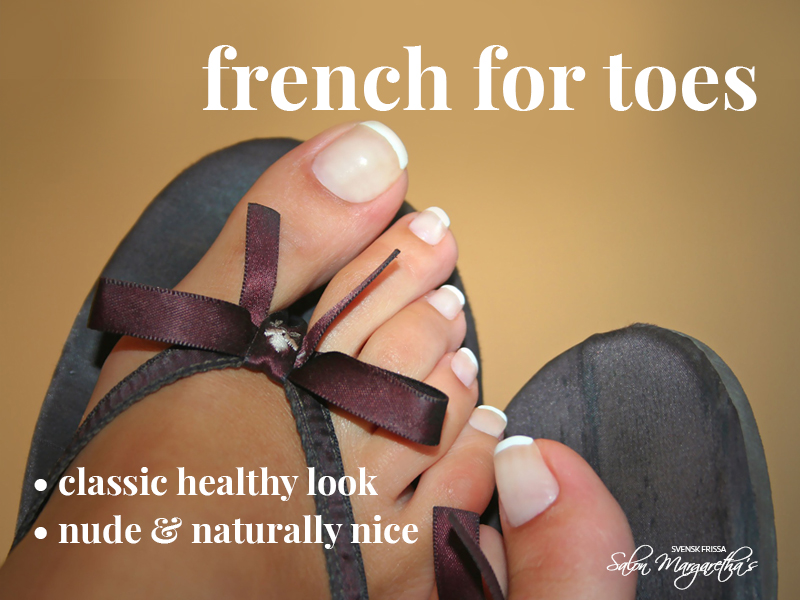 french for feet, why not?
Get this classic and healthy look for feet. Nude and naturally nice!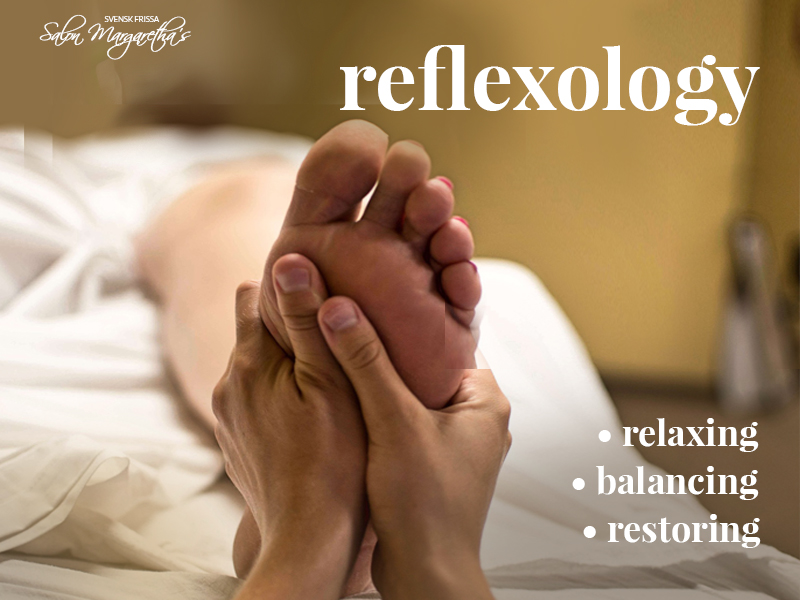 reflexology for your feet
A reflexology treatment uses gentle pressure to specific areas of your feet.
It is believed that these areas correspond to various organs and systems of the body, which when stimulated with pressure via the reflexologist's gentle touch, can reduce a person's experience of stress, tension and pain.
Reflexology has also been shown to be beneficial in helping people with anxiety and depression, as well as enhancing quality relaxation and better sleep.

Our reflexologist, Aneta, has many year's experience in the field of Reflexology and it has become her life's vocation to help others by sharing her knowledge, expertise and commitment to guide people to find their own natural well-being and inner harmony, through the wisdom of their body's innate energy and balance.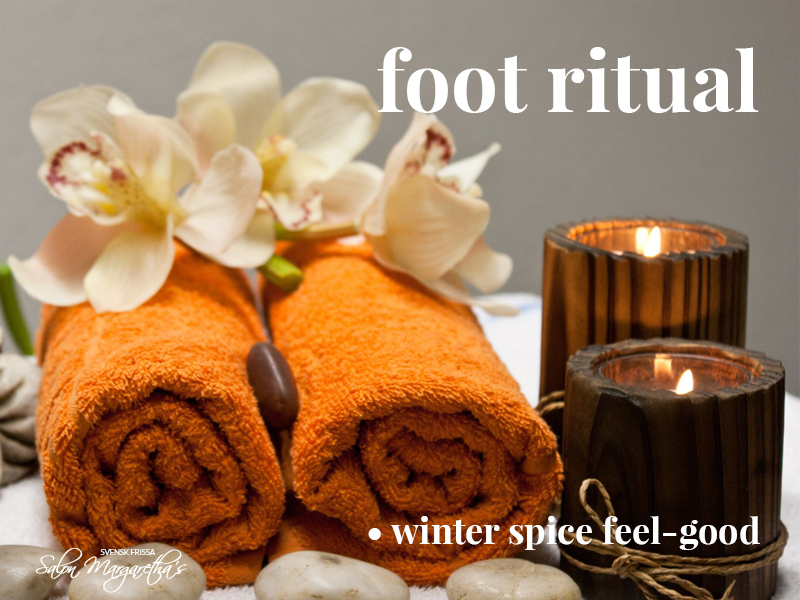 winter spice foot ritual
Soothe and relax, restore and refresh your energy with ginger and cinnamon foot scrub, mandarin massage and twinkle toenail tidy!
Infuse your senses with Sheena´s special blend of winter aromatic fragrances of star anise, clove, cinnamon and fresh orange.
Your feet will be in heaven after this beautiful ritual.
(60 mins)

(Toenail polish can be added if you would like, but please add extra time for this).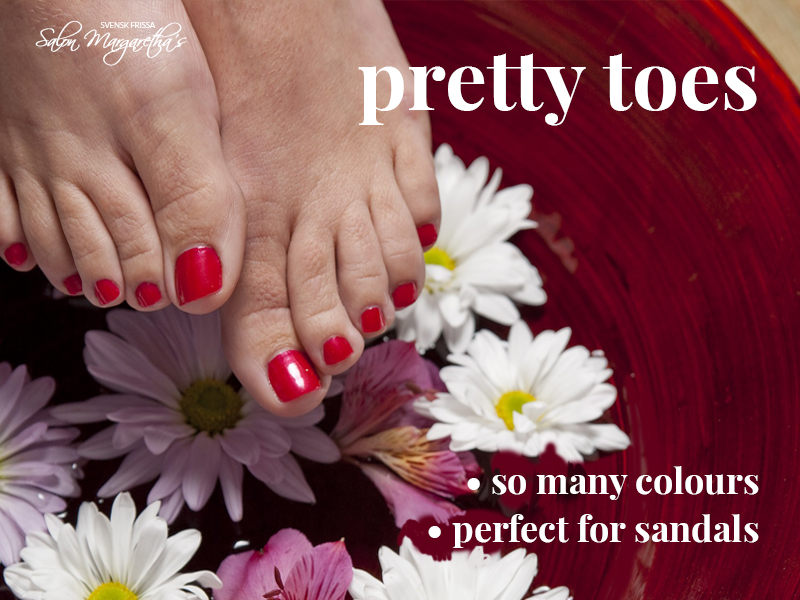 pretty toes
Is it that time of year to get your toes out? Then celebrate with a lovely pedicure and some beautiful colour!
The great thing about having pretty toes is that they go everywhere with you and you get admire them all the time!! :D
It's perfectly cool to love your toes, you know?!
10 more really good reasons to feel great!
Be around people that make you want to be a better person, who make you feel good, make you laugh, and remind you what's important in life.